Simply click on the Favourite Button to add a design into your Favourite
Home is where our heart is
Established in 1954, Hickinbotham is an Australian family success story. A leading and trusted company with a fine reputation for building South Australia's best value homes.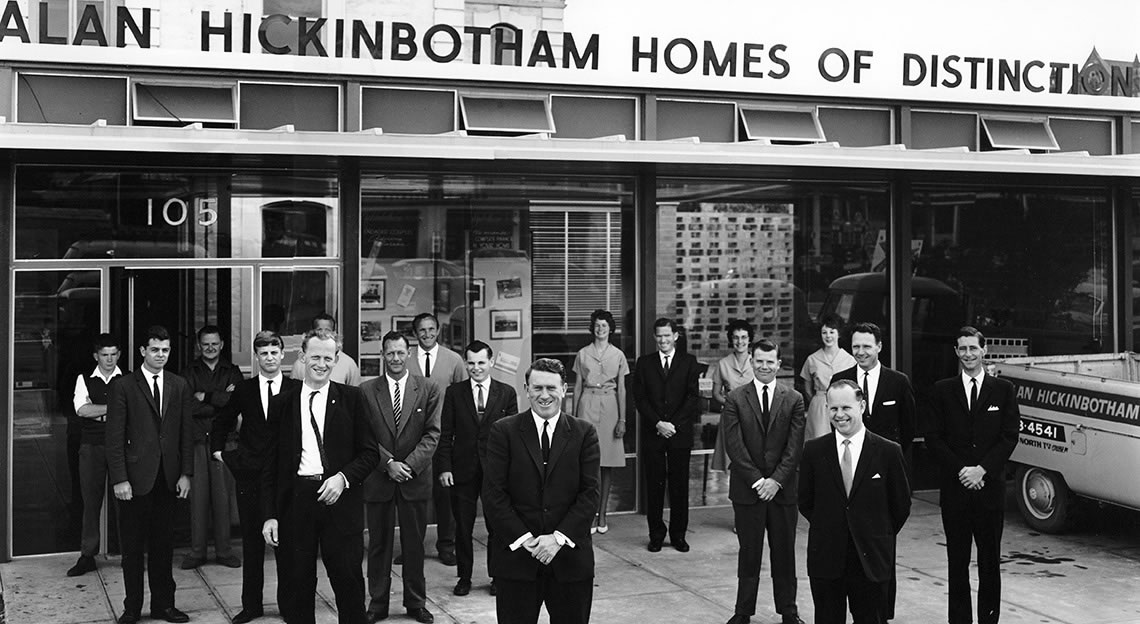 Hickinbotham was founded by chairman Alan Hickinbotham, with his father Alan R. Hickinbotham, over 65 years ago. Since that time, the family-owned company has built more than 40,000 homes, housed over 100,000 people and developed more than 60 community estates.
The Hickinbotham record stands alone, which means you can rest easy knowing your dream home is in good hands. A 25-year structural guarantee really means something when a family has been in business for more than six decades.
It's not surprising that many valued clients have built four, five and even six Hickinbotham homes.
Being South Australian, Hickinbotham has intimate knowledge of local building conditions, as well as finance, design, land, soil types, and other building considerations. With South Australia's best range of villa, courtyard, traditional and two storey homes, Hickinbotham offers an unmatched range of more than 300 designs.
Some of South Australia's most skilled tradespeople work for Hickinbotham, with many having been part of the team for more than 30 years. When you build with Hickinbotham, you'll be associating with some of the most experienced and revered tradespeople and designers in the country.
Family way
For a family that has achieved so much in many different areas, the Hickinbothams have maintained 
a remarkably low profile.
The seed for the building company was sown when the late Alan David and his father, Alan Robb Hickinbotham, bought a block of land in Linden Park in 1954. They built a house on the block to cater for strong post-war demand, which was quickly sold. This first Hickinbotham home in Sturdee Street, Linden Park, still stands proudly today and is in immaculate condition.
Invention in their blood
The Hickinbotham family's awareness for the need to improve building and development methods, protect the environment and preserve the precious resource of water has seen them introduce many radical innovations to their community estates. They were the first developers to put telephone and power lines underground and have restrictive covenants on the felling of trees at their Athelstone estate in the 1930s.
This estate was the first development ever to win a Civic Trust award. The concept of storing run-off stormwater in the aquifer for later re-use was pioneered by Hickinbotham in partnership with the CSIRO, and was put into practice at the company's Andrews Farm estate. This project set a precedent for the rest of Australia and from it national standards were developed.
Another Hickinbotham water project was the Renmark Water Reclamation Plant, a state-of-the-art facility to purify and filter Renmark's wastewater so that it can be re-used for irrigation rather than polluting the River Murray.
Hickinbotham was instrumental in bringing into being Australia's first joint ecumenical Anglican/Catholic school at Andrews Farm, St Columba College. It was one of the first of its kind in the world. 
Another innovative school project was Woodend Primary at Sheidow Park. When the cash-strapped government of the day was unable to provide a much needed primary school for the people living on the Woodend Estate, Hickinbotham funded the school, built the campus and leased it back to the government, creating the first privately owned public school. This project received national attention.
A family of humble high-achievers
There is a very long Hickinbotham family association with football dating back to the late 1800s, starting with David Hickinbotham ('Old Dave') who played for Geelong. He was one of the legends of the game, was regarded as the finest centreman of the 1880's, and was remembered as a revolutionary football strategist. As the club's captain, he took the team undefeated through the 1886 season to be both premiers and champions of Australia. His grandson was Hickinbotham's founder and former Chairman (Alan), who also had a passion for football, having played for South Adelaide, South Australia and Geelong while pursuing a career as a science teacher at Geelong Grammar. He eventually moved to coaching after a chronic injury took its toll. Alan was President/Chairman of South Adelaide for 14 years and was the club's patron and number one ticket holder.
Alan and his wife Margaret had five children, and Alan would readily tell people his wife was the 'power behind the throne' having provided a strong and loving foundation for the family.
First-born, David became involved in the Hickinbotham building and development business at just 20 years of age while finishing an economics degree. After 25 years, he swapped bricks for wine, taking over Hickinbotham's extensive vineyard operations and wine business.
Almost 20 years ago, younger son Michael left the Melbourne office of law firm Blake Dawson Waldron (now Ashurst), where he was practicing corporate law, to join the family business. He is now Managing Director of the company.
Ruth, a former journalist, has studied interior design and has worked at the company since 1990. She is the Design Director, working closely with the best architects and designers to create the housing ranges and is responsible for the award-winning display villages.
Daughters Jane and Julie each chose their own direction. Jane lives in the United Kingdom where she studied drama and pursued an acting career. Julie started her career as a photographer working for the Sunday Times in London and Belle in Australia, switching to interior design for international hotels. Her love of the Australian outback saw her documenting the lives of Australia's indigenous people.
Fittingly, in the 1998 New Year Honours lists brothers Alan David and Ian were each recognised; Alan receiving an AM for services to housing and urban development and to the community, and Ian an OAM for services to the wine industry.
Wine interest
Building is not the only area the Hickinbothams honed their skills in.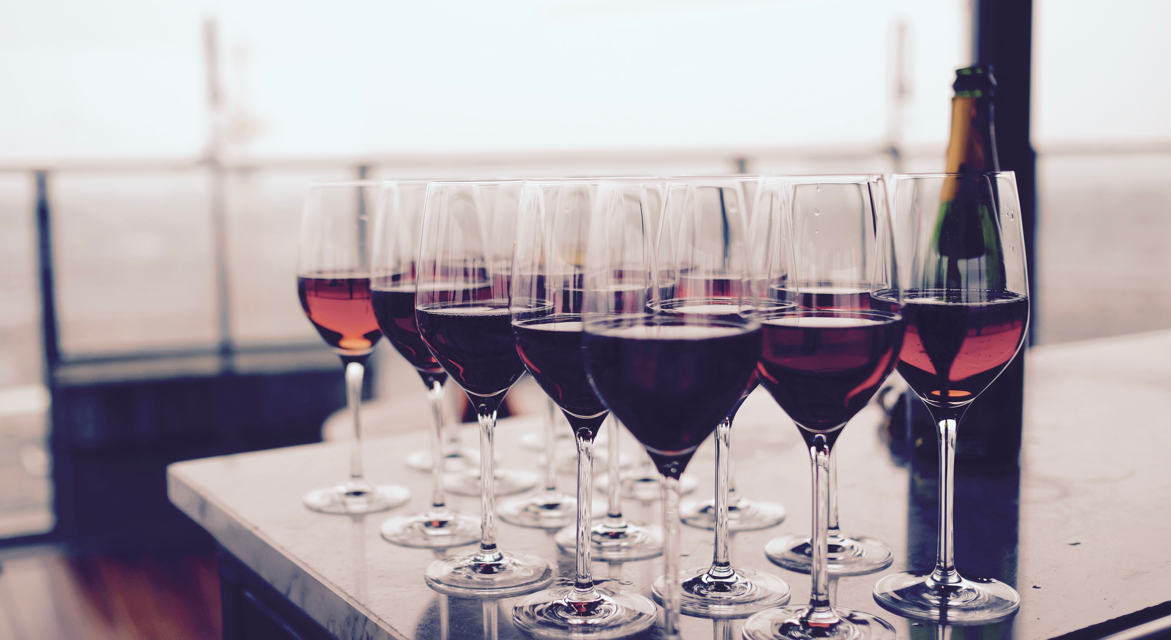 It might come as a surprise to learn that the Hickinbotham family has been involved in the wine industry much longer than they have been in housing; 70 years, in fact.
In 1936 Alan Robb Hickinbotham established the nation's first winemaking course at Roseworthy College, now part of the University of Adelaide. The course is one of the best in the world, ranking with Davis, the University of California, Montpellier in France, and the University of Bordeaux.
He went on to become a wine consultant and wine writer of note. 
Two of Alan Robb's sons, Alan David and Ian, continued with their father's passion for wine. Ian established a winery in Victoria. That branch of the Hickinbotham family is now famous for their bag-in-the-box invention and the Cab Mac (carbonic maceration) process that produces a light, early drinking red wine. 
Alan David's interests stayed in South Australia. He established his first vineyard at Clarendon in Adelaide's foothills in 1970 that was rated by wine doyen Robert Parker Jr. as one of the world's greatest wine estates.  The family's Hickinbotham Wine Company which is managed by David A. Hickinbotham has been exporting wine for over 45 years and has produced internationally awarded, premium wines.  
The Clarendon vineyard supplied grapes for such iconic wines as Grange and Eileen Hardy, while their label, Paringa, has achieved significant attention from wine critics for its high quality.
In 2002 Paringa was voted best value wine in the world by NewsWeek and one of the best 100 wines in the world by The Wine Spectator.
Wine Spectator magazine told its two million readers that Paringa's 2013 shiraz was," Smooth and inviting, singing sweetly through the extended finish." It also listed it in its Top 100 of the year with just four other Australian wines. 
Like their houses, Hickinbotham's wines are known for their excellence and value for money.
To commemorate the contribution Alan Robb Hickinbotham and Ian's late son, Stephen Hickinbotham, made to the Australian wine industry, the family helped fund the establishment of the Hickinbotham Roseworthy Wine Science Laboratory at the Waite campus of the University of Adelaide in 1998.
The National Wine centre's largest public room was named Hickinbotham Hall in 2007 in honour of Alan Robb's and Alan David's contribution to the wine industry.
For information on purchasing wines, email info@paringa.net 
From the Ground Up
The Memoirs of Alan Hickinbotham
Alan Hickinbotham's life was remarkable. From humble beginnings growing up in rural South Australia, he became first a renowned sportsman, representing South Australia in football, and then a successful businessman. He built Hickinbotham, from the ground up, into South Australia's largest builder of homes, and also established a burgeoning wine business. This is the story of one man's rise, through hard work and perseverance, to a position of success. It charts the highs and lows, the dreams, the determination, his involvement with civic affairs, and his commitment to his family.
Praise for From the Ground Up from late Hugh Stretton AC
"It's a joy to find Alan Hickinbotham as good at autobiography as he has been at football, building houses, attracting immigrants, making wine, and family life. He is one of the most successful entrepreneurs. I know him as public-spirited, ready help to other innovators, and fair-minded about his competitors. His book has some unusual qualities. Its style suits its subject: a rat-tat-tat of plain words in short clear sentences pack as much fact and suspense per page as the best whodunnits. He details his successes and failures and thoughts and feelings about them with very little boasting or resentment. And among his many themes I dearly hope that our urban planners will heed his advice about Adelaide's future." 
Hugh Stretton AC, one of Austalia's leading public intellectuals and social reformers.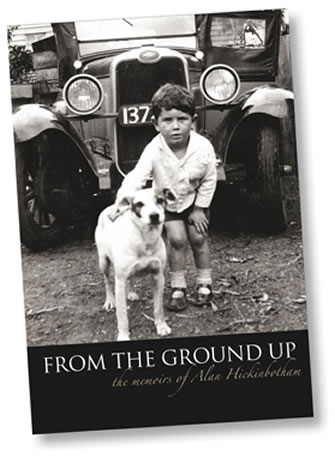 Hickinbotham & Geelong Football Club
Alan Hickinbotham
A tough, courageous and often almost wantonly aggressive ruckman and defender. Alan Hickinbotham was a shining light in under-achieving South Adelaide sides for almost a decade after World War Two. Winner of the club's best and fairest award in 1947, he was joint runner-up to Bob Hank in the Magery Medal the same year. In 1954, his last league season, he served as South's captain-coach. Earlier, in 1949, he had crossed to Geelong, only to break his leg in a match at the MCG before his VFL had properly got going. Ironically, Hickinbotham had previously broken his leg while representing South Australia at the same ground. Because of the effects of the injury, he managed just half a dozen senior games in three seasons with the Cats.
After his retirement as a player, Hickinbotham, who played a total of 4 interstate matches for South Australia, continued to serve South Adelaide in various off-field roles, including that of club president. He was inducted into the Panther's official Hall of Fame in 2005, the same year that saw the club announcing that its home ground at Noarlunga would be re-named the Alan Hickinbotham Oval.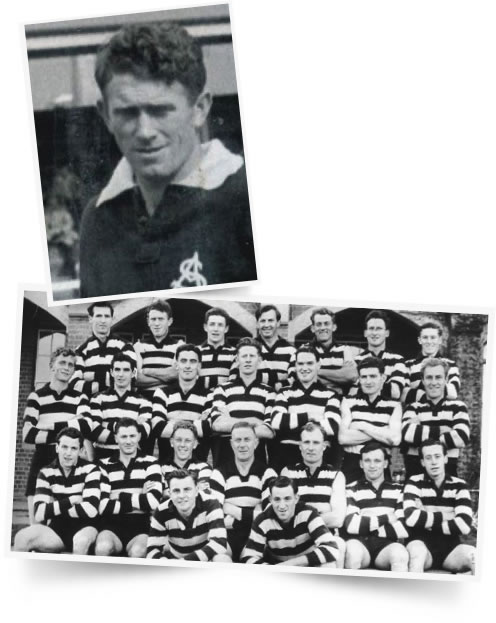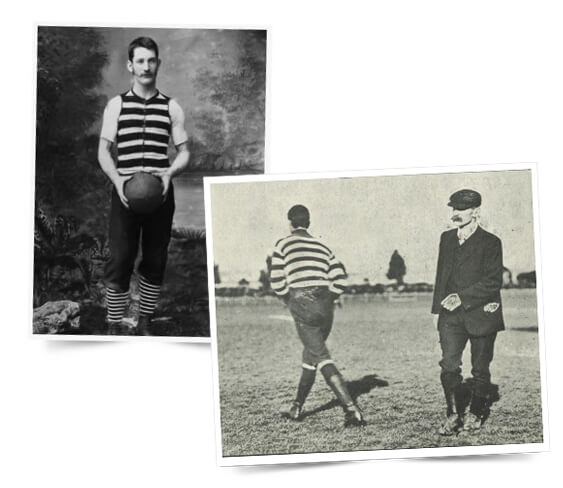 David Hickinbotham
Known as Dave, or "Old Dave" in later years, Alan Hickinbotham's father was once hailed as one of the greatest skippers Aussie Rules ever saw, and is recognised as one of Geelong's great sporting legends. Born in 1862, Dave found his spiritual home in Geelong's local football culture, rising through the ranks during the team's winning era. As a footballer, Dave was a paragon of skill, pace and fine temperament. He always kept his aggression within acceptable boundaries, and was an excellent kick (Source – John Devaney, Australian Football). Geelong took the premiership in 1882, 1883 and 1884, and became champions of Australia 1886. Dave was captain of that championship-winning side that went through the season undefeated and is remembered as a revolutionary football strategist.
With his spirited determination and integrity, and unwavering dedication to Aussie Rules, David made a real impression on his grand-son Alan D. Hickinbotham, Hickinbotham's co-founder. His legacy lives on through the Hickinbotham name and in the Hickinbotham Group's ongoing determination to be the best on ground in everything they do.     
BECOME A HICKINBOTHAM
VIP
Be the first to hear about latest news, special offers and industry tips