An SA Icon at Home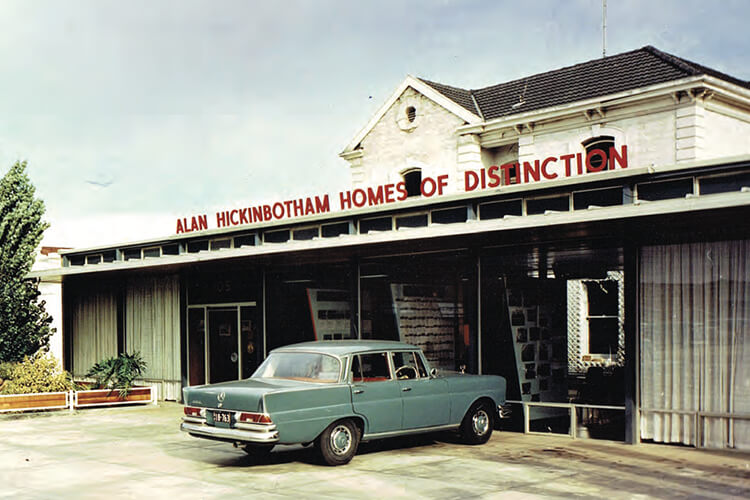 "Everyone who builds a Hickinbotham home benefits from over 65 years of us evolving with the industry and with our customers."
MICHAEL HICKINBOTHAM
Managing Director
HICKINBOTHAM GROUP
SA's largest builder has a rich history, a tradition of excellence and a philosophy that will undoubtedly pave the way for an exciting future.
More than 65 years of successfully helping people with the biggest investment they'll probably ever make means Hickinbotham must be doing something right.
When Hickinbotham started building its first house in 1954, it also started building its reputation. More than 65 years later, Hickinbotham is South Australia's longest established building company and more people trust Hickinbotham, ahead of any other builder, to help them build their homes.
Hickinbotham's core principle of providing South Australians with quality homes at affordable prices started with its founders: Alan Hickinbotham and his father, Alan Hickinbotham Senior, who was a leading academic. Together they were committed to traditional ideas of excellence and service but they also wanted the company to be progressive and innovative.
Today, the company's Managing Director, Michael Hickinbotham, is proud of the standards set by his late father and grandfather, and has committed himself to building on them.
"I loved working with my father through all the ups and downs," Michael says. "A key lesson I learnt from him was about respecting the people who are important to the business: our customers, of course, but also our excellent staff and subcontractors. The idea of giving value underpins every relationship."
Celebrating over 65 years since 1954
Even in the earliest days, Alan Hickinbotham knew that to build the best homes, you had to work with the best people. Today, Michael and his sister Ruth Vagnarelli, the Design Director at Hickinbotham, seek out leading architects and designers so Hickinbotham homes are more than just beautiful and well made. They have comfortable living spaces, clever storage, great natural light and they're kind to the environment.
"Everyone who builds a Hickinbotham home benefits from over 65 years of us evolving with the industry and with our customers," Michael says. "We're always finetuning our ideas and pushing the envelope to achieve better outcomes. We have a tremendous amount of accumulated knowledge that puts real depth and value into every home we build."
When Alan Hickinbotham and his father built that first home, he couldn't have known how far his ideas would take his company.
Today, approximately one in four homes constructed in Adelaide are built by the organisation. The company has also created more than 60 communities across the state. But for the many thousands of people Hickinbotham has served, there is still a focus on the particular needs of each person they build for.
"After our long history, people come to Hickinbotham expecting an experienced company that builds great homes," Michael says. "We make it our business to deliver on that. We have a fantastic team, and finely honed systems and processes in place because we want every person who builds a Hickinbotham home to have the same great experience."
The company has developed more than 60 community estates, setting standards Australia-wide for innovative design, quality facilities and sound environmental management techniques.
In line with Hickinbotham's commitment to building communities - not just homes - The company has also invested in the education of South Australian children, donating land and building highly valued schools at Sheidow Park and Andrews Farm, and a school has been planned at Liberty, Two Wells.
Our Story At A Glance
| | | | | |
| --- | --- | --- | --- | --- |
| /1954 | /1962 | /1963 | /1968 | /1970 |
| Alan Hickinbotham and his father Alan Hickinbotham Sr establish what will become SA's largest building company. The first Hickinbotham home is built in Sturdee Street, Linden Park. | The state's first charity home is built and a modern day equivalent of $800,000 is raised for the Crippled Children's Association. A London office is opened to sponsor migrants, and over 2,000 families are helped to settle in Adelaide. Foxfield | Foxfield Estate in Athelstone is released and becomes the first residential subdivision to win a Civic Trust Award for protecting the natural environment, and the first to use underground powerlines. The Grillage Raft footing system is developed, revolutionising house construction in Australia and becoming an industry standard nationally. | The first display village in the state is opened at Manor Farm. | Award-winning "No gutter" house by leading architect Hank den Ouden is built. |
| | | | | |
| --- | --- | --- | --- | --- |
| /1980 | /1993 | /1994 | /1995 | /1997 |
| Hickinbotham celebrates its 25th birthday by donating a statue of Queen Adelaide to Adelaide City Council. It still stands in the Adelaide Town Hall. | Hickinbotham partners with CSIRO, the South Australian Government and Playford Council to pioneer aquifer storage and recovery at Andrews Farm, which receives international attention and sets national standards. | A groundbreaking water reclamation plant is designed and constructed for the Renmark Council, enabling the township to re-use its wastewater | In An Australian first, Hickinbotham finances and builds the first privately owned public school, Woodend Primary School. | The company endows and constructs St Columbia College at Andrews Farm – Australia's first joint ecumenical Anglican– Catholic school, which soon becomes the second largest school in the state. |
/1998
/2001
/2006
/2007

/2008

Alan Hickinbotham makes the New Year's Honours List and is made a member of the Order of Australia for services to housing, urban development and communities
The state-of-the-art Hickinbotham Roseworthy Wine Science Laboratory at The University of Adelaide Waite campus is opened in honour of Alan R. Hickinbotham.

 

Michael Hickinbotham receives a Centenary Medal, honouring his contribution to the building industry and the community.
The highest–energy rated environmentally sustainable homes are built at Lochiel Park.
Hickinbotham partners with awardwinning architect Max Pritchard to create the sustainable Affordable Architect Series – an Australian first.
Hickinbotham becomes the first volume builder to offer "Green Choice" environmentally sustainable options to clients.
| | | | |
| --- | --- | --- | --- |
| /2013 | /2014 | /2018 | /2019 |
| Hickinbotham's Two Wells project wins a Planning Institute of Australia Award for Planning Excellence. | Hickinbotham celebrates its 60th birthday. | Hickinbotham launches South Australia's biggest and first seven-day-a-week, state-of-the-art design studio, setting new benchmarks for the customer design selection process. The Design Studio wins Silver at the Design Institute of Australia South Australia / Northern Territory Awards in the Built Environment: Retail category. Hickinbotham is the only South Australian company ranked in the top 10 largest Detached House Builders across Australia for the second year in a row. | Michael Hickinbotham receives a UniSA honorary doctorate in recognition for his contribution to SA. The Housing Institute of South Australia names Hickinbotham SA's No. 1 Home Builder for a record 13th year running |