HICKINBOTHAM GROUP NAMED SA'S NO. 1 BUILDER - AND MAKES TOP 10 LIST IN AUSTRALIA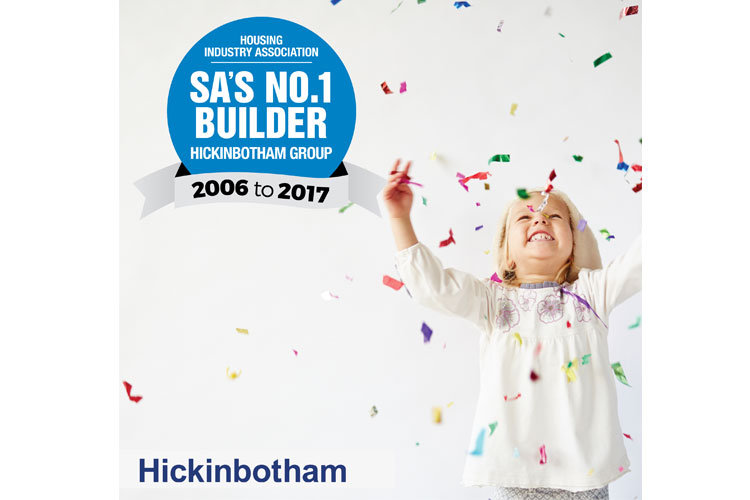 Prominent South Australian-based building and land development company, the Hickinbotham Group, was today officially recognised as SA's leading residential home builder for the eleventh consecutive year.
And in another coup for the company, it was rated as one of the Top Ten leading home builders in the country.
Significantly, the Hickinbotham Group is the only SA-based company to make the Top 10 list.
The Housing Industry Association's annual HIA-COLORBOND steel Housing 100 Report – which lists Australia's largest 100 builders – today listed the Hickinbotham Group as SA's largest home builder as well as the 10th biggest home builder in the country.
The report states that the Group started 1291 new homes in 2016/17 - reflecting its commitment to building high quality, affordable homes and generating thousands of local jobs.
"We are absolutely delighted with our ranking on the HIA's annual list of the country's leading residential builders – especially being the only SA-based company to make the HIA's Top 20 list," Hickinbotham Group Managing Director, Mr Michael Hickinbotham, said today.
"It shows that a proud, South Australian owned and operated company is holding its own against some of the biggest home builders in Australia," he said.
"It is testament to the continued perseverance, commitment and determination of our great team - including our fantastic trades and the brilliant products that they build - to be the very best that we can be.
"We are proud to be the only builder from a small state to make the list with all the others either national builders and/or based in high growth areas like Sydney and Melbourne."
The Hickinbotham Group has housed over 100,000 people in more than 35,000 homes, developed more than 9000 allotments and created more than 50 communities over the past 60 years.
It was recently selected by the South Australian Government to construct a $215 million, 700 home development in Adelaide's southern suburbs.
Key economic benefits and components of the project include:
a $215 million investment over eight years.
a $170 million contribution to Gross State Product over the same
a major and much needed economic and construction industry stimulus for Adelaide's south, and South Australia more generally.
nearly 1200 full time jobs over eight years (average of nearly 150 full time jobs per annum), and;
more than 700 homes on a 42 hectare site of which six hectares will be open space.
the Hickinbotham Group participating in training and employment works to deliver for the project.
the development being one of the most significant of its type in recent years with substantial flow on effects.
The Group has a proven track record of innovation and excellence in designing and delivering best-practice communities and houses, including:
pioneering the use of wetland-style water retention basins within housing developments since the 1960s.
establishing the nation's first aquifer storage and recovery system (with CSIRO at Andrews Farm) from which national standards have subsequently been developed.
developing Australia's first privately designed, financed, built and owned public school (at Woodend, Sheidow Park).
developing the first privately developed estate in South Australia where all telephone and power cables were placed underground (at Foxfield, Athelstone).
being the first Australian development company to win a Civic Trust award for its commitment to the natural environment (at Foxfield, Athelstone).
building a state-of-the-art wastewater reclamation plant for the District Council of Renmark Paringa, one of the first of its type in Australia.
innovative and unique finance products that have allowed hundreds of South Australians to achieve home ownership that otherwise would not have been possible.
introducing the first 7.5-star architect designed energy rated homes for the volume market.
"We are a proud South Australian company that has been helping people with the biggest financial investment they will probably ever make and have been responsible for creating beautifully designed communities that are attractive places to live, work and build a future," Mr Hickinbotham said.
"The Hickinbotham Group is steadfast in its commitment to South Australia as it drives significant projects with a combined retail value of $2 billion," he said.
"These projects continue to generate jobs, prosperity and bountiful opportunities for thousands of South Australians – every day."