Hickinbotham holds onto SA's No.1 home builder title and top 20 national ranking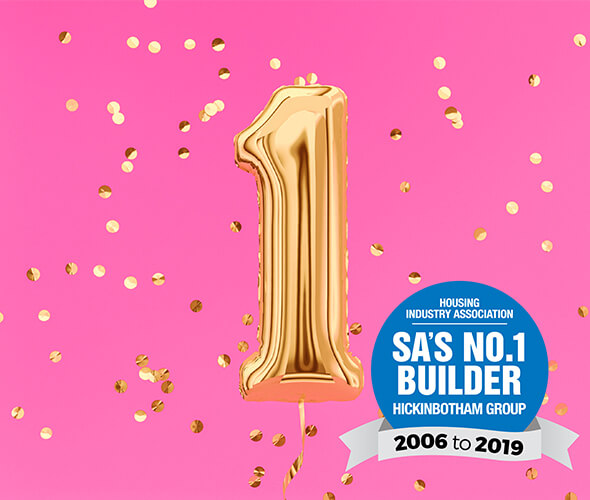 The Hickinbotham Group has held onto its title of South Australia's Number One new home builder for 2019 as the Company continues to outperform its peers. 
The prominent Adelaide-based residential building and land development company has added to the State honour by retaining its titles as the only South Australian company ranked in the Top 20 total home builders and Top 20 detached new home builder categories in Australia for the past year. 
The rankings have been detailed in the just released Housing Industry Association's annual HIA-COLORBOND Steel Housing 100 Report – which lists Australia's largest 100 builders based on new detached, semi-detached and apartment home starts. 
The HIA noted particularly that the period under review had been a challenging year for home builders with the number of new home starts contracting sharply. Overall, the national market contracted by 15% but was still worth in excess of A$21 billion. Similarly, the total number of detached new homes constructed by the Housing 100 builders was smaller, easing 6%. 
However, the total market share of the Housing 100 builders increased to 35% this year from 33% in 2017/18 - the highest market share, the HIA says, for this grouping since 2013/14, and consistent with previous trends where volume home builders gained market share in a contracting market. 
The title of SA's No.1 home builder is the 13th consecutive such annual win for Hickinbotham – with its 2019 new detached home build numbers more than four times that of its nearest competitor and making the Company one of the State's largest employers and private sector investors. 
Hickinbotham ranked 11th nationally over the 2018-2019 financial year from the previous year for detached home starts. 
It commenced 1,282 new detached homes in SA in the year spearheaded by ongoing major residential housing projects to Adelaide's north including the $1.2 billion Liberty-Eden development at Two Wells.   
The Company last month also secured in-principle agreement with the Onkaparinga Council for the new $215 million Seaford-Meadows residential estate in Adelaide's southern suburbs, with first site works anticipated to start early next year, subject to final regulatory approvals. 
The nearest and second placed SA builder commenced 306 detached houses for the 12 months. 
Hickinbotham's continued Top 20 national ranking for detached homes was also achieved in a year where record low interest rates failed to correct a general easing nationally in new house build numbers as tighter lending criteria in the wake of the critical Banking Royal Commission, began to bite into approvals levels. 
Group Managing Director, Mr Michael Hickinbotham, today welcomed the HIA's ongoing recognition of the Company's commitment to SA's economy and new home build sector. 
"SA's economy is in transition and rebalancing its future, particularly around long-term defence contracts, new space, health and education industry opportunities, an enlivened rural and regional sector despite drought challenges, and new technologies," Mr Hickinbotham said. 
"These factors are combining with the State's well respected lifestyle and home affordability profiles to attract fresh investment in new home builds," he said. 
"It is also important that relevant product choices be brought to market and at Hickinbotham, we have worked hard in the past year to continue to evolve our current floorplan portfolio to accurately reflect current and near-term market conditions.
"Critically, we have also continued to cement strong relationships with our long-term suppliers and sub-contractors in a year in which the collapse in Adelaide of a number of smaller sized local home builder collapses, spooked the market. 
"Against this environment, Hickinbotham's strength as a home builder and project developer of scale and note, ensured our sales figures remained strong as buyers looked for, and continue to look for, a better safety net and wider choice for their new home and mortgage loan commitments." 
Hickinbotham has a more than 65-year heritage in SA and has around $2 billion of significant developments currently underway across the State. 
Hickinbotham also ranked well in the HIA's overall national rankings for the total of home product offerings, including detached, semi-detached and other residential products, coming in at 15th position. 
About Hickinbotham 
The Hickinbotham Group is the largest and longest established building and development group in South Australia, having constructed 40,000 homes and employing directly and indirectly more than 4,000 people. It has been the largest residential building group in South Australia for 13 consecutive years, is the 11th largest detached home builder in Australia, and is responsible for building one in every four new homes in Greater Adelaide. It currently has more than $2 billion of significant developments in South Australia.