How to make a house a home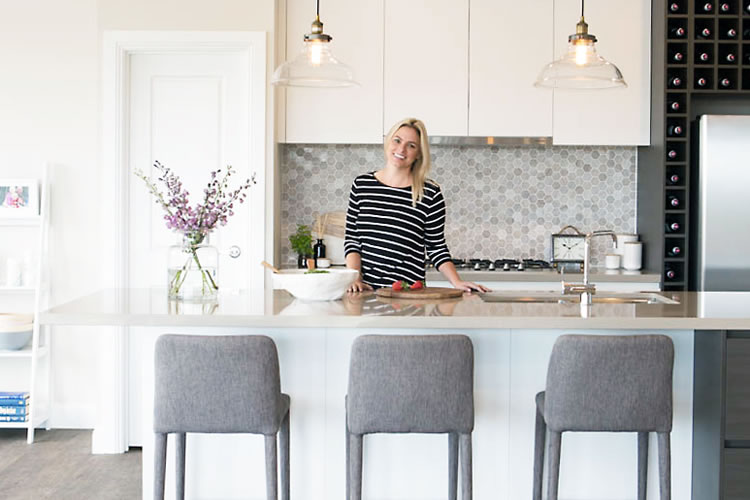 So you've chosen your Hickinbotham design, signed off on your master plans and received your construction report, what's next?
The selection process in 10 simple steps
Visit our Design Selection Centre Visit Hickinbotham's state-of-the-art Design Selection Centre, where you can choose all the colours and finishes for your home in one location.
Meet with one of our design consultants A trained design consultant will work through the entire design selection process with you, ensuring that the colour scheme you choose is right for your home and your lifestyle. The whole process takes around 2.5 hours, and clients are encouraged to come armed with ideas and pictures of the type of colours and finishes they like. 
Kylee Harry, Hickinbotham's Operations Manager says:
The design selection process is all about helping the client develop a vision of how their home will look, and we generally get the process underway with an informal chat about their home over a coffee.
3. Choose your exterior Start with the home's exterior, including brick colour, roof tiles and paint colour, it's important that each element complements the other.
4. Make your paint selection Once the exterior is complete, it's time to move inside. The first interior decision is paint selection. Client's choose one colour for the entire home, so it's important to select a neutral tone that will work with planned décor. Hickinbotham's colour experts will advise clients on how they can customise their home once they have moved in – through feature walls, soft furnishing, art and home accessories.
5. Fabulous floors and doors Next up are the floors and doors for the new home. Again it is important that there is consistency between all the rooms in the house. Choices include timber floorboards, tiles and carpet.
6. The kitchen connection The kitchen requires considerable planning, so quite a bit of time is devoted to this area of the house. Decisions include benchtops, cupboards and appliances. Hickinbotham's consultants can be as hands-on or as removed as you like throughout this stage of the process. Popular Hickinbotham kitchen choices range from the modern, all white with stainless steel appliances to the classic jarrah routed cupboards with stone bench tops.
7. In the bathroom / laundry The final rooms in the house to be reviewed are the bathroom and laundry, where choices for tapwear, benchtops and cupboards need to be made.
8. Detailed assessment Decisions done! Next you will be given a print out of all your selections – so you have them on hand for convenient review.
9. Refine your look Hickinbotham understands the importance of a well-considered decision. That is why at the end of your selection process, you have time to review all the choices you have made. You can come back to the showroom to review your selections at any time.
10. Lock it in Once you are 100 per cent sure about your decorating choices, it's simply a matter of signing the paperwork. Hickinbotham will then make your dream a reality.