Kitchen Love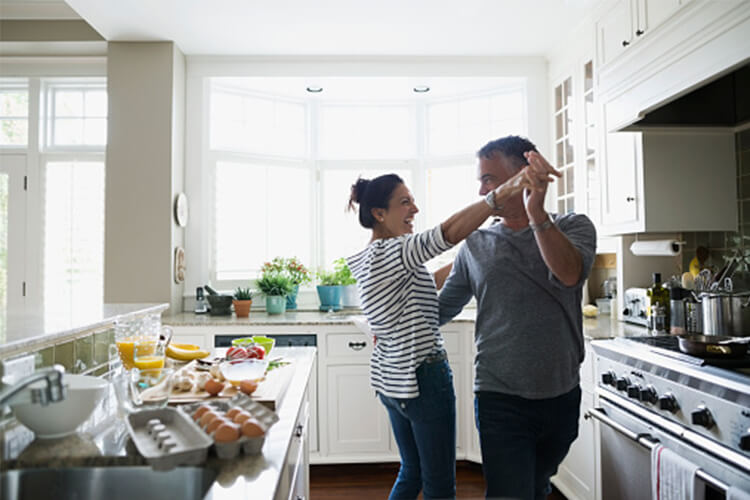 It's the heart of the modern home. Here are the essential ingredients to make your kitchen both fabulous and functional.
1. LOCATION, LOCATION
The kitchen should have a close connection to the entertaining spaces of the home. An open plan layout from kitchen to living encourages ad-hoc interaction between family members. Necessary for busy family life.
2. EASY-TO-USE
Proportion and position are key to a userfriendly kitchen flow. The sink, cooktop and fridge should all be in easy distance of one another. Ideally there should be no more than three metres between the three points.
The Freesia Alfresco at Riverside
3. COME ONE, COME ALL
Make the kitchen island a magnet for communal interaction. Make it large enough for multiple people to help prepare food. It should also accommodate stools so that people can sit while they work or chat. If you don't have room for an island, make sure you have ample bench space with an oversized dining table nearby.
4. STORE AND ORDER
Storage is essential in a kitchen. It reduces clutter and creates a safe environment. Incorporate overhead cupboards as well as deep drawers for pots and pans. Good design will ensure there is a place for everything.
5. FAMILY FRIENDLY
The kitchen is the hardest working room in the house. It needs to look good, but also needs to stand up to the wear and tear of daily life. Make sure you choose materials that are stain resistant and highly trafficable.
The Greendale at Blakes Crossing
6. HIDDEN TREASURE
A butler's pantry is always a good idea. Not only do they provide ample storage, they can hide mess, when cleaning needs to happen fast.
7. LIGHT ME UP
You need a variety of light sources in a kitchen. Task lighting for benches and cooktops is essential, so too is general ambient lighting for the room. Pendants are a great way to add design interest.
8. PERSONALITY PIECE
Bring your kitchen to life by putting your personality on display. No need to hide everything away behind closed doors. Many kitchen items, such as platters, chopping boards or teapots, are sculptural in their own right and should be admired. Consider using open shelving for photos and other family mementos, so that every time you pass by, they spark joy.
Flowers and fresh produce on display are always a good idea. A stack of cook books also look beautiful.