Lessons in Style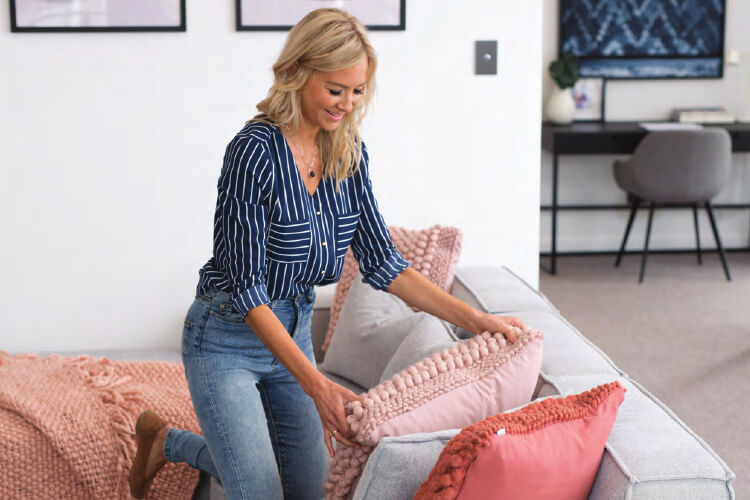 It's those finishing touches that make all the difference when it comes to making your house a dream home.
Five easy decorating tips to create a look you love
TIP #1 PLAN IT, PIN IT
Styling a new home should start with a plan. Time spent planning gives you a decorating scheme that flows from room to room, without sudden changes in style or colour. Create a Pinterest moodboard for each room in the house. Include all the colours, textures and patterns you love to make sure they all work together.
Pair colours with your art
TIP #2 START WITH ART
Nothing personalises a house like art. Select a piece for the walls first and use this as your inspiration and colour scheme. Oversized art makes a big statement and should be placed in a key position, such as above the lounge or in the entry. This sets the stage for your home.
TIP #3 SIZE IT UP
Cut newspapers or cardboard to the size of potential furniture purchases and place them in the room to help visualise the area and get a feel for the layout. Remember to leave enough space for walkways and traffic flow especially in open-plan living areas.
This simple clean lines of Scandi cool
TIP #4 LOVELY LAYERS
Use lots of layers and textures to create a luxe and warm feel. For example, in your bedrooms, mix cushions of varying sizes, throw rugs and animal hides to build interest.
TIP #5 HOME JEWELLERY
Add character to your home by dressing it with accessories. Vases, candle sticks, clocks, frames and other favourite trinkets can be grouped together in threes or fives (odd numbers look best). Display them on shelves, coffee tables or entertainment units, to make your home feel like you.