Preston Alfresco Clever Thinking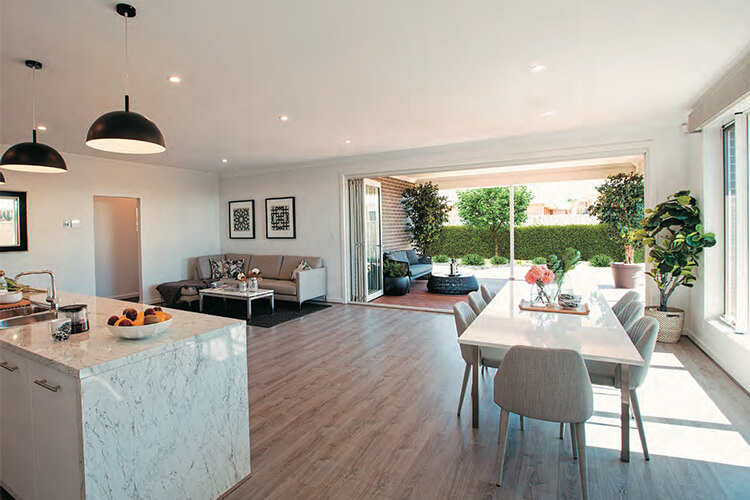 Every Hickinbotham design starts with extensive market research. Then our architectural team gets to work shaping and perfecting the ideas. This meticulous design process is why every square metre of every Hickinbotham home works beautifully.
Great home design doesn't happen by accident. We take a walk through one of Hickinbotham's most popular designs, the Preston Alfresco, with Ruth Vagnarelli, Hickinbotham's design director.
Not just a pretty façade
"It's easy to see why this is a top seller," Ruth says. "There is such a sense of luxury here but we designed it to be totally functional as well. Look at all this clever storage space."
Designed by award-winning architect Max Pritchard, The Preston Alfresco has four bedrooms and 250 square metres of comfortable living areas, stylishly functional domestic spaces and lots of natural light. The impressive gourmet kitchen has everything a keen cook could need – plenty of bench space, lots of cupboards and a huge walk-in pantry.
"This is a dream home for anyone who loves to entertain," Ruth says, "but we also wanted this kitchen to be a place where the family could easily spend time together. Our buyers are telling us that's exactly how it works, which is great."
Smart design with people in mind
Hickinbotham works with the best designers but an important part of our design strategy is using the ideas and opinions of the people who live in our homes.
Focus groups and customer surveys are an important way that we know how our designs are working. The designers combine this information with the latest advances in home construction to make sure all Hickinbotham customers get the features they want and need.
"One thing that often comes up in surveys," says Ruth, "is how important quiet spaces are for a family. The Preston Alfresco has certainly been designed around that idea." To minimise noise spilling over from the home theatre, it has been put at the front of the house, away from the living areas. Children have their own zone as well with a substantial multi-function bathroom right there to help keep the kid-chaos localised.
"Another world away from the children's bedrooms is the master bedroom," Ruth says. "We actually designed it to be more like a luxury retreat."
The master bedroom is in its own quiet corner of the house. All the bedrooms have built-in wardrobes but in the master bedroom you'll find a double walk-in robe plus a spacious ensuite with an extra-large shower and a double-basin vanity.
Brilliant inside and out
"There are so many great things about the Preston Alfresco," says Ruth, "but I think my favourite feature is the thing that gives it its name – the alfresco entertainment area."
The under cover alfresco area flows naturally from the living and dining area into the sunshine and fresh air. It's a natural place to entertain guests or have some outdoor time with the family. "South Australia has a wonderful Mediterranean climate," says Ruth. "I love that the Preston Alfresco gives families a great place to enjoy it."
Visit the Preston Alfresco at Playford Alive, Seaside Moana or Aston Hills display centres and see why it's one of South Australia's most beautiful homes.
The Preston Alfresco design is an entertainer's dream. As a flagship Hickinbotham Home, it has an innovative design that separates casual and formal areas so families have plenty of room to spread out.