The Good Luck Club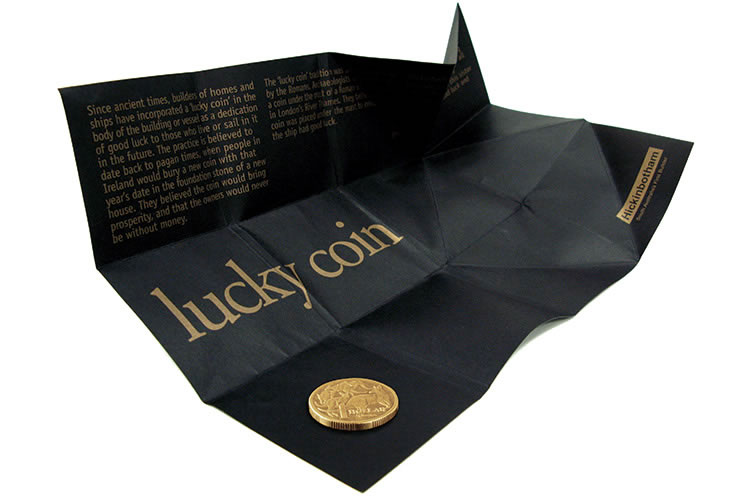 Since ancient times, builders of homes and ships have incorporated a 'lucky coin' in the body of the building or vessel as a dedication of good luck to those who live or sail in it in the future.
The practice is believed to date back to pagan times, when people in Ireland would bury a new coin with that year's date in the foundation stone of a new house. They believed the coin would bring prosperity, and that the owners would never be without money.
The 'lucky coin' tradition was also embraced by the Romans, with archaeologists discovering a coin under the mast of a Roman ship found in London's River Thames. They believe the coin was placed under the mast to ensure the ship had good luck.
Hickinbotham tradesmen have revived this practice and now place a lucky Australian coin in the foundation of every home the company builds, in the hope that it will bring good fortune, health and prosperity to all who reside in it. To commemorate the dedication, a sister coin is presented to the homeowners when the home is handed over. According to Hickinbotham Construction Manager David Swinden, placing a coin in the foundation of a new home is a lovely custom that dates back to ancient times and one that Hickinbotham is pleased to resurrect.
Builders are naturally a little superstitious, so it is a bit of fun and a nice way of wishing those who will live in the home the best of luck for the future.
Did you know?
According to the Chinese art of Feng Shui (which means 'the natural forces of the universe'), coins act as wealth magnets. Giving someone three coins tied with a red ribbon represents sharing wealth and luck and the act is believed to bring good luck and positive Feng Shui to both the giver and the receiver. Visitors to the ancient city of Rome are encouraged to throw a coin into the Trevi Fountain to ensure they return one day. At the launch of the Queen Mary 2, in August 2002, the President of Cunard placed a UK five pound coin under the keel of the ship to ensure its future good luck.