Decorating your new home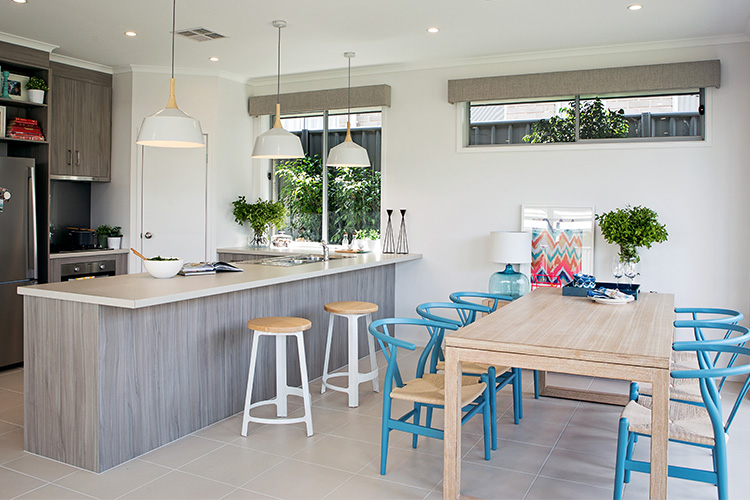 One of the best things about building a new home is having a clean palette to work from. It's your chance to decorate your home just how you want it and to inject your own sense of style. If you're in need of inspiration, turn to home magazines, TV shows, display homes and homeware stores – they're all bursting with ideas on how to create the perfect home.
Selecting the right colour combinations is often the key to a successful home décor. Here are some tips to get you started:
Go mono
You can't go wrong with a monochromatic palate. Monochromatic colour schemes often feature variations of a single colour or hue – such as whites, creams and neutrals. Guaranteed to create a spacious and contemporary atmosphere, these schemes can be brightened or updated through the inclusion of bright accessories and soft furnishings.
Crazy with colour
For a striking and vibrant feel, consider a complementary colour scheme that uses directly opposite colours like shades of orange and purple. A good way to do this is by introducing a feature wall into a room or by using contrasting cushions against your sofa. Consult a colour wheel to ensure the colours you've chosen are complementary.
Be dramatic
For warmth and drama, you can't go past red and orange tones. However, they can make walls seem closer together, so use them where you want to create an intimate and cosy atmosphere.
On Trend
Kitchen Benchtops
Cutting Edge: From clean minimalism to classic wood, there is a benchtop to suit every taste. Anchor your kitchen with elegant surfaces and quality fittings for lasting style.
Bathrooms
Clean Lines: There is a strong focus on simplicity. Whether using 100x100 tiles or subway tiles which add dimension, depth and interest to a basic geometric shape.
Sinks
Keep it Simple: Keep decoration to a minimum to ensure longevity in your sinks and tapware. Be prepared to update your look with accessories and accents instead of big ticket items.
Texture and Tone
True Colours: When choosing your exterior finishes and colours consider your home's natural environment and architectural style.