HICKINBOTHAM ON TOP IN S.A. FOR NEW HOME BUILD SALES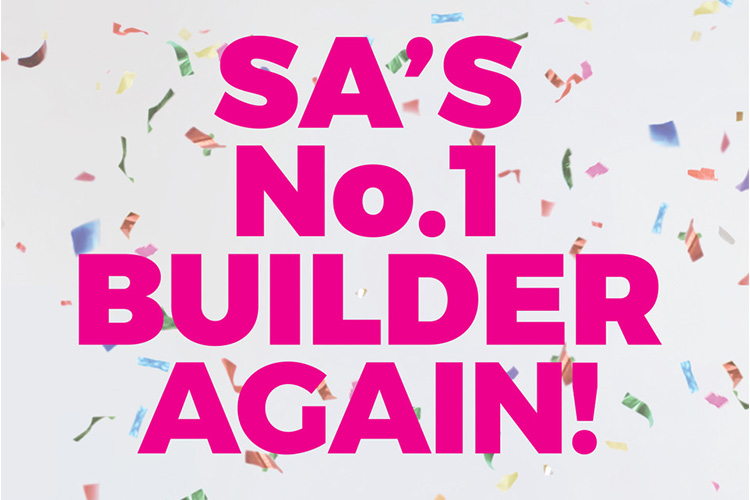 HICKINBOTHAM ON TOP IN S.A. FOR NEW HOME BUILD SALES
The title of South Australia's Number One new home builder for 2020 has gone to the Hickinbotham Group as it heads towards a strong end-of-year building burst.
For the prominent Adelaide-based building and development company, the latest top ranking, determined independently by the Housing Industry Association's annual HIA-COLORBOND Steel Housing 100 Report, means Hickinbotham is SA's No.1 new home builder for the 16th year.
Hickinbotham also retained its title as the only South Australian company ranked in the Top 20 home builders in Australia for the past year coming in at 15th overall but 11th for detached home builders.
The HIA rankings list Australia's largest 100 builders based on new detached, semi-detached and apartment home starts.
This year's Housing 100 Report for 2019/20 showed that the nation's largest 100 residential builders increased their share of the new home building market from 35% to 40% and accounted for 68% of the detached homes built in Australia for the year. They also increased revenue earned from home construction by 13.2% to $24 billion, including increasing the number of new starts in the year by 1,765 homes.
Hickinbotham commenced 1,349 new detached homes in SA in the year under review, five percent higher than the previous year.
Group Managing Director, Mr Michael Hickinbotham, noted that in the unsettling economic times evident over 2020 particuarly, new home buyers had felt secure signing on to build with a reputable company like Hickinbotham that has been around since 1954 and has a proven track record of delivery over many decades.
"A company can only achieve such consistent Number 1 performance over so many years by focusing simnultaneously on meeting customer expectations, offering competitive pricing, ensuring quality builds, sufficient product choice and in the demographics of where new home buyers want to live," Mr Hickinbotham said.
"Hickinbotham continuously reviews its performance to ensure it continues to meet and exceed those market expectations as the State's largest new home supplier."
Mr Hickinbotham said SA's new home build industry would be critical to the pace at which South Australia achieves the transition from the COVID job shutdowns that have marked 2020, to a post-COVID and energised SA economy next year.
"Within this environment, SA can expect to continue to benefit from its well respected lifestyle and new home affordability profile," Mr Hickinbotham said.
The Company has a more than 65-year heritage in SA and has around $2 billion of significant developments currently underway across the State.