Mini Kitchen Warriors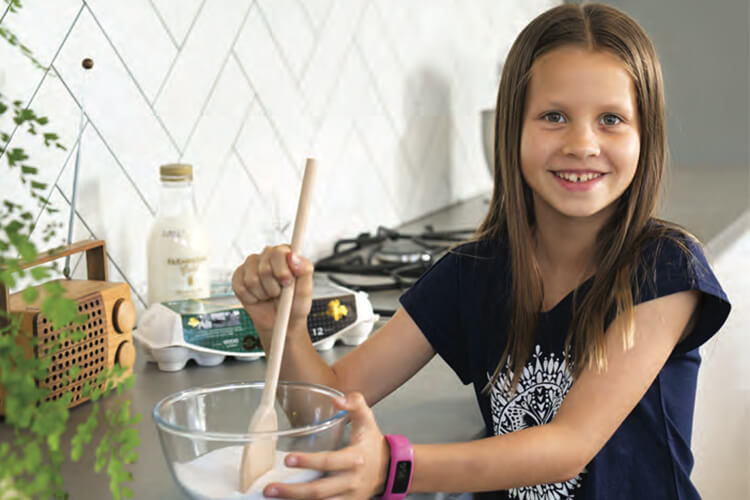 Food Lovers of the Future
A hub of energy, a source of enticing aromas and a place to connect with family and friends, the kitchen has evolved into so much more than a food preparation space - it's the pulse of the home. And it's a place where fond memories from childhood develop into lifelong rituals around food and relationships.
There's no better place in the home to harness the natural curiosity of kids than in the kitchen.
For parents, grandparents and children alike, cooking together provides an opportunity to talk, share, cooperate and get to know each other better.
 Even the fussiest of little eaters are more likely to eat food they have helped to prepare.
 By making food and packing their lunchboxes, kids can learn about nutrition and choosing the right foods for healthy eating habits.
 Following a recipe is a creative way for kids to use literacy and numeracy skills.
 Sampling cuisines from across the globe can be a fun, interactive way to learn about other cultures. 
Kids grow up fast, and the time we spend creating memories with them is precious, so it's important to make the most of it. As home designs address the needs of modern life, kitchens are placed at the heart of everything. They give us opportunities to spend quality time together and are great learning spaces too.
Whether its washing leaves for salad, chopping veggies for dinner, or getting covered in flour while making the perfect chocolate brownie, there are so many ways kids of any age can help in the kitchen while having fun, gaining knowledge, learning important skills, and being part of creating cherished family memories.
The health benefits are huge
With all this in mind, at Hickinbotham we set out to design the most convenient, inviting, spacious kitchens that are warm, nurturing, collaborative spaces that the whole family wants to spend time in. Walk-in pantries open up a world of ingredients for our pint-sized pals; island benches invite curious cooks of all ages to gather around to observe or get hands-on; and with the right appliances, the results out of the oven or off the stove are a delicious reward for all the hard work.
The right kitchen can be the perfect place for nourishing young bodies and minds, and can pave the way for strong family bonds and healthy habits for life.
Hickinbotham has hundreds of designs to choose from, so you can find the perfect kitchen to suit your needs or tailor an existing design to create your own customised kitchen.