Sandford Alfresco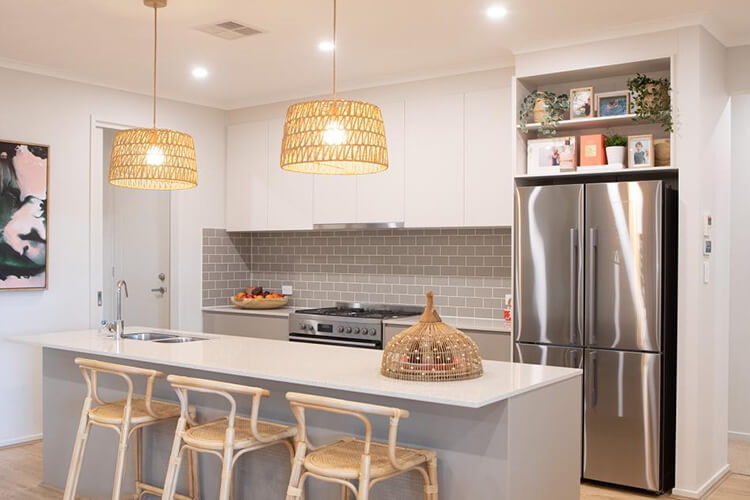 Style, substance and luxury combine in affordable home design that takes into account modern-day needs, such as working from home and the necessity for space
I love it when you walk into a home and feel at ease. It's quiet, there's a tranquil vibe and a warmth oozing from in the interior decor. House hunters wanting style and inspiration will already be across television renovations shows, but there's nothing quite like seeing it for yourself.
So you'll want to take a walk through Hickinbotham's Sandford Alfresco, which is on display at Miravale estate at Angle Vale, where the design showcases a neutral palette of blonde timber-laminate flooring (Authentico Mendochino from Discount City Carpets) and an interior aesthetic inspired by the trend for colours that bring "joy, hope and optimism".
And that they do. Bright pastel pinks, golden sandy tones, orange dashes and garden greens interweave in artworks, on furnishings and planters, from bed linen to bathroom accessories.
A positive, breezy feel flows through the four-bedroom, two-bathroom Sandford Alfresco, which, also is due to wide windows allowing lots of natural light in, as well as the 248.44sqm of total space and high 2.7m ceilings on display.
As a mid-size home that will fit on a 15m wide by 30m deep block, Hickinbotham's design director Ruth Vagnarelli says it will appeal to smaller families who want the flexibility of four bedrooms as well as a host of practical features, such as an alfresco for our Mediteranean climate, but luxury touches, too.
"This home feels luxurious as soon as you enter, the hall is wider than usual, at the front there is a beautiful master suite with a large double walk-in robe and spacious ensuite, and there is a study / 'zoom room' as people are calling it now and a handy storeroom," she says.
"The huge family / meals / kitchen zone all have plenty of room to spread out and cater for multiple functions at once and it flows out on to a generous undercover alfresco."
For everyday life practicalities, there's a shopper's access door from the double garage straight into the sizeable pantry.
There's also a three-way bathroom which separates the shower/bath room from the toilet and vanity, all in order to deal with the morning rush.
The addition of a dedicated study is another modern-day necessity that Ruth says Covid has brought to light.
"With the onset of Covid-19, people have rethought their housing. With the 'work from home' movement taking off, people want to spend time in beautiful spaces," she says. "This home really has been designed for our times. There is a study at the front and every bedroom can fit a desk. One room can easily be turned into an indoor gym, second study or activity room."
Three minor bedrooms are located along a private hall behind the garage, optimising the home's security and safety which is essential for families with young children. The laundry and main bathroom are also found there.
"As many people now work from home a few days a week, we are also finding homebuyers want super storage so we can hide the mess away and everything can have its place, a butler's pantry, a designated space where they can work. Buyers are making sure they have plenty of room, everyone wants their own bedroom as well as enough space in the house in which the household members can unwind."
Central to the open plan zone is the stunning kitchen with its island bench topped in Laminex's Essastone Sandstone Cape Gloss, cupboards in Laminex's Baye natural finish and Union Taupe Satin subway tiles (Beaumont Tiles) on the splashback. Woven pendants above the island and pops of colourful artwork throughout the space add warmth and a comfortable, inviting appeal. Ruth says it's her favourite space in this design.
"It's so generous and light and airy, put simply it is a beautiful space," she says. "The design is extremely versatile, some people who do not want the study delete the store and make it a separate living area."
For more information please visit Hickinbotham Homes - Sanford Alfresco.